The Commodore Wars
When Jack Tramiel invented Commodore in the 1970's, he envisioned computing for the masses and not just the upper classes. Spearheading the personal technology revolution and combatting giants like Apple and IBM, Commodore became a household name by changing the way in which we interact, create and play with computers. From the advent of the groundbreaking Atari and Tetris games to the evolution of contemporary technological design, 8 Bit Generation dives into the home computer explosion and explores Commodore's key role in shaping the future in which we now live.
The movie feature previously unreleased interviews with Jack and Leonard Tramiel, Chuck Peddle, Al Charpentier, Bil Herd, Michael Tomczyk, Dave Rolfe, Richard Garriot, Jeff Minter, Andy Finkel as well as Steve Wozniak, Nigel Searle, John Grant, Nolan Bushnell, Al Alcorn, Joe Decuir among others.
---
Digital distribution
The Commodore Wars will be available again in 2022.
---
Summary
There are four people who were unquestionably key to the digital revolution that took place in the 70's and 80's. In no particular order they are Steve Jobs, Bill Gates, Nolan Bushnell and Jack Tramiel: the latter two worked on kids, which was pivotal in shaping a new generation of tech savvy people. Nolan Bushnell brought them digital consciousness and Jack Tramiel brought them affordable computer power.
Jack Tramiel was not much about public relations, which is probably why he still isn't getting all the credit he deserves. Even in the boom days he released few interviews in magazines and even fewer for television: you could probably count them on your fingers and have some bits left for flagging. We proudly own the very last, long, relaxed, vivid interview he ever released. We asked him why he allowed us to do that and he said that he liked our country (Italy) because he always got so much from there. He's right: we had Commodore 64's everywhere! The man who terrified his co-workers and competitors with his booming voice was the kindest person to us.
Chuck Peddle is a self-defined maverick, but what we learned interviewing him is that he is also a word flood. He's just unstoppable. Yet we have an awful lot to learn from him. You quickly understand that he met everyone, he's been everywhere and has been involved in everything: always in a maverick fashion, in the Chuck Peddle way. His contribution to the revolution is unquestionable, but still seems quite underrated. What is wonderful about him is that every fact you pretend to know well, appears slightly different when told by Chuck Peddle: there's always another angle to view the story from.
The Commodore wars is no less than the true story, among others, of the Apple II, Commodore VIC20, TI 99/4A, Sinclair ZX series and the Commodore 64, the latter being the biggest selling single computer of the 20th century and all of them having been the machines on which a couple of generations of kids learnt what a computer is. But it is also the story of a number of wars which Jack Tramiel led against his competitors with his unquestionably bad temper and shrewd strategies.
There are a number of things to learn from this story: some are about business, some are about technology, some are about ourselves and what we are now, but perhaps the most important are the ones about ambition and humanity and what we chose to be during our time on earth.
The project's history
Production of the 8bit Generation project started in 2010 and lasted until the end of 2012. After that we nearly went broke a couple of times, but some friends in the retro-computing community never gave up on us. Finally we resolved to answer one of the many calls Jason Scott was addressing us and thus we started again.
In September of 2014 we attended XOXO festival in Portland Oregon and show some footage of the 8bit Generation project to a large audience to great acclaim: we learned that Jack Tramiel and Commodore are held as crucial in the entire digital revolution. We knew it, but we learned that the audience too is willing to hear THIS story at last.
We resolved to post produce a 90 minutes long episode by the working title of "Growing The 8 Bit Generation", focused on the home computer explosion and Commodore role in the personal computer revolution. In August 2015 we launched a Kickstarter campaign to raise money for that, putting a 25.000 dollars goal to go for it. A month later we had been staff picked by Kickstarter and raised some 45.000 dollars from backers all over the world.


In February 2016 we released "Growing The 8 Bit Generation" for backers only.
"Growing The 8 Bit Generation", later changed in "8bit Generation: the Commodore wars", and became our first documentary from the 8bit Generation series.

Mar 30, 2016: at the Computer History Museum the first screening of "Growing the 8bit Generation". With John Hollar, Bil Herd, Leonard Tramiel, Chuck Peddle and Al Alcorn.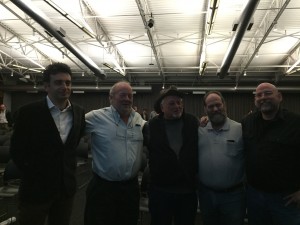 More technical information are available on IMDB:
Thanks
Our biggest thanks to these friends: without you this huge project never happen…
Jason Scott: he trusted in this project more than anybody else. His help was fundamental!
Bil Herd: the narrator of Growing the 8 bit generation
Zoë Blade for the soundtrack (that you can listen here)
Cecilia Botta for PR and marketing
This project is alive thanks to all the kickstarter backers and our sponsors:
Here is the alphabetical list of all backers whose name in in the credits. Thank you all!
Aaron Giles
Abdulla Almarzooqi
Abhilash Sarhadi
Adam Caine
Adrian Brown
Aerodesic
Alan Hightower
Alan W. Rateliff, II
Alejandro Guillú Mendoza
Alessandra Luciano
Alexander Falk
Anders Jensen
Andreas Carlsson
Andrew Dooley
Andrew Stephen
Anna Christina Naß
Anonymous Bastard
Anthony Becker
Antonello Carlomagno
Artur Skoczek
Augusto Minoja
Axel Buerkle
Ben Combee
Bieno Sesentaycuatro
Bill Winters
Björn Schweitzer
Blair Harrison
Bodenand
Bogdan Macri
Bran Handley
brepettis
Bret Victor
Bruce Murphy
bruce oberg
Carlo Luciano Bianco
Chand Svare Ghei – Moonknight
Charles Atencio
Chris Armitage
Chris Fala
Chris Grismer
Chris Hendrickson
Chris Ormandy
Christian Jacob
Christian Liendo
Colin Lawlor
Copperlist
Cristian Cicolini
Csaba Tóth
Dan Gaidula
Dan Johnson
Daniel Dietz
Daniel McCoy
Daren Klamer
Darren Brumfield
Dave Dribin
Dave Slotter
David Almer
David Culp
David Isherwood
David Lang
David McKenna
david raistrick
David Reid
David Viens
Derek J. Balling
Derek Warren
Dex Wilkinson
Django Manglunki
Duncan Harvey
Eddy L O Jansson
EndGame – Chris Hanrahan
enriko valk
Eric Wolff
Ethan Henry
Ewen McNeill
Fabrizio Pedrazzini
Florent Stroppa
Florian Schulze
Frank Somers
Frank Wales
Frantisek Fris
Fridolin Hösli
Fuchs Joël
Gene Buckle
GeoNomad
Gerald Friedland
Gianluca Clos
Giles Jones
Grant Hutchinson
Greg Alekel
Gregory Van Vooren
Harold van Ingen
Ian Schmidt
Jac Goudsmit
Jan Kivisaar
Jan Stoltenberg-Lerche
Jason Chau
Jason Hogue
Jason Scott
Javier Albarracín Valdivia
Jeff
Jeff Atwood
Jeffrey Barendse
Jeffrey Brace
Jeffrey Mouroux
Jeremy Price
Joe Cassara
Joe Tullio
Joerg Droege
Johan Saf
John Durnall
John Hicks
John W. Linville
Jonas Blomgren
Juergen Brunner
Justin Dundas-Smith
K.C. Budd
kaixo
keithbuswell
Kevin Savetz
kirk is
Klemen Verdnik
Kyle Good
Len Shustek
Leonard Tramiel
lmorchard
Marcin Jaworski
Marco Beri
Marco Das
Marien Kaptein
Mark A. Andrews
Mark Gardner
Mark Hellewell
Mark Jowett
Mark Pilgrim
Mark Robin
Marko K. Seppänen
Markus Marion
Marwan Alzarouni
Matt Dawidowicz
Matt Hargett
Matt Kissel
Matt Shively
Matt Thrailkill
Matthew Hagerty
Matthew Widup
Michael
Michael Dillingham
Michael Rubin
Michael Vogt
Mike Golden
Mike Naberezny
Myles Wakeham
Nate
Nate Bezanson
Nick Lines
Noah Goldberg
Nope Then
Pascal Cuow
Patrick Becher
Patrick Hensley
Patrick Johnmeyer
Paul Gerhardt
Paul Hancock
Paul Mansell
Paul Sponagl
PELISSIER Patrice
Peter Clay
Peter Krefting
Peter Landers
Peter Mattsson
Phillip Wong
Pierre R. Mai
pmengal
QuangDX
Ray Lauff
Richard Magers
rjp
Rob Campbell
Rob CLarke
Robby Boey
Robert Bernardo
Robert Gentner
Robert Schultz
Roberto Pensotti
Rocco Di Leo
Roger Anderson
Rolf Scheimann
Rune Spaans
Russ H.
Russ Rogers
Ryan C. Gordon
Sami Rautiainen
Sean Murphy
Sebastian Bergmann
Sebastian Gavilán Gurvitsch
Sedano
Seppo Seppälä
"Serge ""Je suis Charlie"" M."
Sharat Faqurudheen
Simon Hadlington
Simon Thornton
Stefan Riemer
Stefan Winterstein
Stephan van Beerschoten
Steve Fish
Steven Innell
Sven Laucke
Ted Veralrud
The Collector
Thomas Cremers
Tim Berry
Tim Goldenburg
Toasty Aiuto
Tobias Hultman
Tomas Matys
Toni Thompson
Tony Cappellini
Trevor Dickinson
Vidar Hokstad
Wayne Steele
Yngve Fagerheim
Yugi